Welcome to Florida Decor. Our goal is to present you with a Florida Decor magazine specializing in upscale South Florida Home Decorating, South Florida Furniture, Lighting, Fabric and Window Treatment, Kitchen and Baths, Furniture, Interior Designers, Home Remodeling, Home Improvement, Flooring, and more! SO MAKE SURE YOU LOOK FOR US AND FIND THE BEST IN THE FOLLOWING AREAS: Custom kitchen remodeling, decorating tips, Ft. Lauderdale marble granite tiles, leather furniture, furniture, window treatments, interior decorators, kitchen remodelers, fabric for furniture, south florida home improvement, interior design, kitchen and bath remodeling and fine furniture. More categories to be added later.
ADVERTISING SPECS AND CIRCULATION
Information for our printed version of Florida Decor.
PDF- Media Kit
Use the Convenient Online Advertising Contract below. Once you have completed the contract form, please save
as a PDF to your harddrive, desktop, or any other convenient place. Then email it to us as a PDF attachment.

CLICK HERE TO VIEW OUR COOL FLASH DISPLAY OF OUR MEDIA KIT

Contract Form
IF FOR ANY REASON, THIS FORM OR MEDIA KIT CAN'T DOWNLOAD, TRY SAVING THEM AND THEN OPEN EITHER ONE. OR, PLEASE EMAIL US WITH YOUR REQUEST AND WE WILL CONTACT YOU.
IMPORTANT: YOU CAN EMAIL THE FORM BACK TO US FROM ADOBE READER (look for the Email option) OR SAVE AS AN ACROBAT DOCUMENT AFTER IT IS, FILLED OUT, AND THEN EMAIL IT TO US AS AN ATTACHMENT.
Email :floridadecor@bellsouth.
TOTAL MAILED CIRCULATION: 20,000
DROP OFFS: 3500
LICENSED INTERIOR DESIGNERS: 250


One Ad Reaches ALL these Communities!


MAILED TO HOMES
Valued at $800,000 and Up!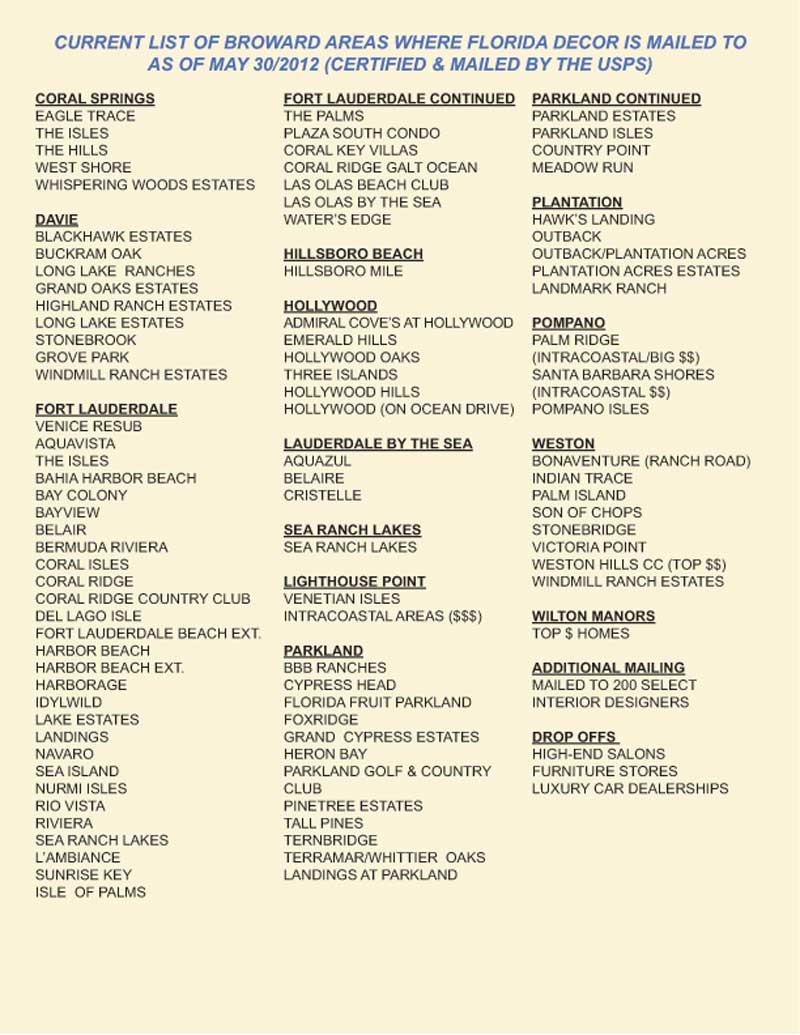 Call Larry Hirsch to advertise: 954 825.1549
Email: floridadecor@bellsouth.net

AD REQUIREMENTS

FULL
Full (bleed) - 8.5 X 11
Trim Size - 8.375 X 10.875
Full (with border) - leave a 3/8" border from all edges
(live area: 7.62" X 10.125)
HALF HORIZONTAL
7.62" X 4.75

HALF VERTICAL
3.625 x 10.125

Acceptable Formats:
300 DPI
CYMK
JPEGS, TIFFS, PDFS