COUPON DOLLAR SAVERS
MEDIA INFORMATION | 954-825-1549 | floridadecor@bellsouth.net

Below is a mockup of our soon to publish coupon booklet.
Click lower left icon to view in full screen mode or just vew as is.
Below this presentation is out media sheet
Click on image for our printable PDF media sheet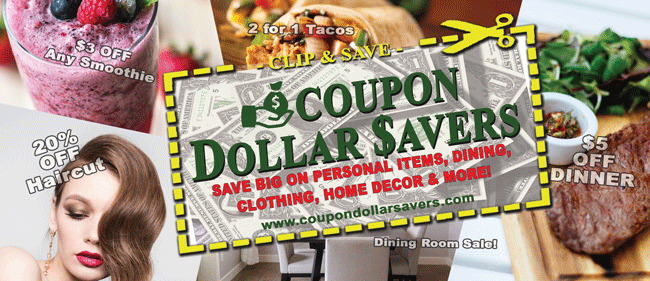 10,500
DIRECT MAILED TO THESE PARKLAND
& CORAL SPRINGS COMMUNITIES
WHISPERING WOODS
RUNNING HILLS
GRAND RESERVE
PARKLAND BBB RANCHES
COUNTRY'S POINT
PARKLAND FRUITLANDS
GRAND CYPRESS ESTATES
PINE TREE ESTATES
TALL PINES
TERRAMAR WHITTIER OAKS
EAGLE TRACE
THE ISLES
MAPLEWOOD ESTATES
WYNDHAM - GRAND ISLE
BAYPOINTE PELICAN ISLE
PARKLAND ESTATES
WATERS EDGE ESTATES
FOXRIDGE
LANDINGS
MIRA LAGO
PARKLAND PRESERVE
WATERCREST
CYPRESS HEAD
WHISPERING WOODS ESTATES
HERON BAY
CYPRESS TRAIL
THE PINES
PARKLAND ISLES
THE HILLS
PARKLAND GOLD & COUNTRY
WEST GLENN
TURTLE RUN
MEADOW RUN
NORTH SPRINGS
KENSINGTON
KNIGHTSBRIDGE
CYPRESS GLENN
The months it goes out are:
November | January | March | May | July | Sept
Deadlines are the 15th of each month preceeding the publication month.
AD RATES ARE:
$395 FOR A FULL PAGE
There is no charge for artwork.
Ad size (bleed) is: 8.6 x 3.735 Trim size is: 8.46 x 3.625
please keep any text at least 1/4. from trim size edge)
If client supplies the ad, acceptable formats are JPEG, PDF, or TIFF
Must be CYMK at 300 DPI
Call Larry at 954.825.1549 or Vicky at 754.246.7774
floridadecor@bellsouth.net

Enjoy great savings and coupons at your local stores, from restaurants, jewelry shops, furniture stores, bagel shops, Italian restaurants, AC repair and more in Coral Springs, Parkland, Coconut Creek, Tamarac, and Plantation. Your savings and coupons will add up to quite a bit, plus the restaurants, furniture stores, local bakeries and bagel shops are known to be the best around.
So when you get our coupon book in the mail, go out and enjoy the great coupon savings from your local pizzerias, bagel shops, furniture stores, roofing and AC services, flooring stores and so much more, all her in Coral Springs, Parkland, Coconut Creek and Tamarac.