PLEASE ENJOY OUR MONTHLY ARTICLES ON HOME DECORATING,
INTERIOR DESIGN, AND REMODELING, PRESENTING FEATURED INTERIOR DESIGNERS AND THEIR
PROJECTS WITH EVERY ISSUE. GREAT FOR IDEAS AND HOME DECOR SOURCES!

Our June 2019 issue features a gorgeous home designed by Joseph A Berkowitz, JAB Design Group
Sargent Photography, Construction- Russel Meyers Construction and Cabinetry -Leeds Custom Cabinetry


LIFE AT THE TOP,
A PENTHOUSE POINT OF VIEW

"When my clients approached me about designing their new Penthouse apartment in North Palm Beach, FL I was exhilarated as we had worked together many times before and developed a fabulous relationship," says Berkowitz. "They had already toured the space and saw the standards set by the building, which is why and where I came into the picture".


The husband and wife were hoping to achieve a unique look and had the opportunity to purchase this apartment in raw form. This allowed Berkowitz to have control of not only the interior design, but the completion of the floors, master bathroom, countertops, and some floorplan modifications as well. "The moment I saw the length of the main living area and its spectacular view of the ocean beyond, the concept of a custom three-sided bridge made from dashboard veneer was conceived with the sole purpose of framing it," says this innovative designer. Within the same framework is a sectional by Thayer Coggin, 2 swivel chairs and the poised Cote D Azur chair from Christopher Guy.




Upon entering the apartment from the private elevator, he was confronted with a series of long interior gallery spaces all leading out to the main living areas. The architecture posed a challenge as there was no natural light to work with. The decision was made to paper the coffered ceilings in a brilliant blue shade, suggesting a sky-like illusion by utilizing indirect lighting to gently illuminate the space below.

Tailored wallcovering by Eykon set the sophisticated yet casual backdrop for a stunning high gloss console table and gilded mirror by Christopher Guy. The boat-shaped glass sculpture is by Tomas Hlavicka. The large green glass and bronze Harlow pendants were procured from Gabriel Scott in New York. "I wanted to make a color statement with the lighting selection here", according to the designer. The last element he conceived for this space was to install a custom frosted glass door that would suggest natural light coming from the elevator entry.

In the dining room a wood and metal inlay table from Giorgio was used to anchor the seating area. "My clients fell in love with the sexy lines of the Dakota Jackson Chairs whose mirror finish was the perfect complement for the table".
It is always a decision as to how many chairs look best when the dining table is so large. To soften the look the designer had a low curved banquette made to minimize the chair count. The entire setting is cleverly backed up to a large wall mirror framed in the same dashboard veneer as the "living room bridge" and baseboards in the main living areas. This creative detail affords a view from the dining room of the ocean opposite, while at the same time mimicking an interior window. Also reflected is the Apollinaire fixture by Jonathan Browning Studios and a painting by Cat Tesla.

The dining room is flanked by custom wood and a gold leaf oval walk around with the bar on one side and the kitchen island on the other.
Adjacent to the bar and flanking, the other side of the dining room is the kitchen's custom island. After an extensive search for natural stone, Cristallo was selected as the counter material. "Its gentle variation of neutral tones and semi-transparent crystal was just the effect we were looking for," said the designer. "Although we chose not to backlight the material, it still has a glass-like quality".
The clients wanted a counter for bar stools as they entertain often and appreciate having their friends and family in the kitchen area, whether it's for morning coffee or afternoon cocktails. In order to achieve this, an art glass slab was commissioned from Reflective Collections in West Palm Beach and supported by aluminum standoffs. The soft blue leather swivel stools by Artistic Frame passed the quality and comfort test, as well as style with their partially upholstered leg and steel foot rail.

The focal point of the master bedroom is the Carree headboard by Christopher Guy with its interlocking upholstered sections and generous size. The designer flanked it on either side with low profile custom black lacquer night tables and crystal lamps. Berkowitz is known for his use of textures and varying materials. The walls are papered in a taupe woven fabric and are meant to play off the wool headboard. "We chose a very open bronze sheer by Rodolph to soften the edges of the windows without detracting from the view." Once again, the clients' trust allowed Berkowitz to paint the ceiling black.

Jewel tones were used in the drapery, upholstery, and bedding for one of the guestrooms. Orange lacquer night tables and blush glass lamps complete the inviting look of this comfortable space. Berkowitz chose to keep the walls, bed, and rug subdued to create a sense of serenity.

The master bath afforded the designer the most freedom as it was a completely raw space. "I was handed a room with concrete floors and plumbing stubs in various locations. My clients and I worked very closely to layout a space that looked beautiful and still functioned as they needed" he says.
We created a frosted water closet and on the opposite side is a freestanding oval tub. The almost 12' vanity has a large floating dual sink area with hidden supports to keep the look open and minimize the cabinetry.
Great lengths were taken for each side to have all the necessary storage and electrical hidden, as well as his and her recessed walls shelves for perfumes and colognes. A centrally located medicine cabinet hides the invisible TV.

Not only due to its large size and glass railings, but a stellar view of Lake Worth, Singer Island, and the ocean beyond. "We wanted to have a contemporary style on the terrace without sacrificing the feeling of classic comfort," says Berkowitz. London Living Leather seating by Domus Ventures fit that dynamic perfectly with its neutral tone, soft leather upholstery, and an oatmeal woven resin body.
The designer chose a cozy face to face chair layout where guests can share ottomans thus not blocking the view with larger seating. He paired that with an aluminum tulip base stone table by West Coast Industries to allow for alfresco dining. To complete the setting, he chose blue tweed fabric pillows, stainless candle lanterns and a throw for breezy nights.
5 INTERIOR DESIGN TRENDS FOR 2020
By Matt Lee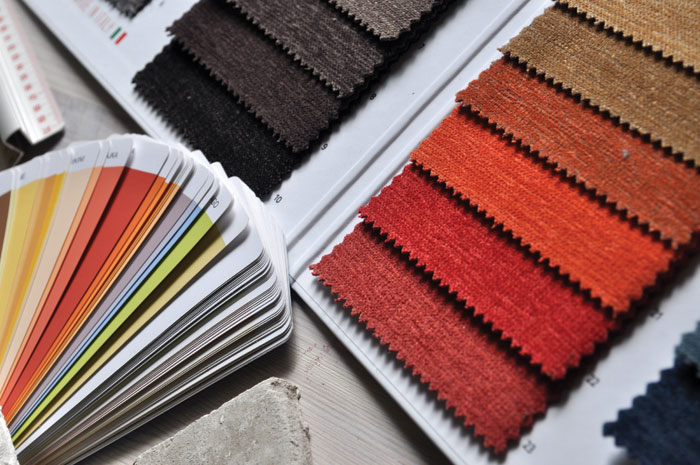 2020 brings in a new decade, and with the new decade comes a slew of exciting emerging design trends. Interior design is all about combining materials, colors, textures, and decorations to create an interesting motif. While all trends are subject to personal taste, there are some clear trends showing prominence.
If you want to revamp your home and ensure your house is modern, keep reading. These five trends are sure to continue gaining popularity, and you don't want to miss the boat.

Trend One: Neutrals are Back
Technically, neutrals have always been in style. However, in the last decade, loud colors started gaining traction. In 2020, neutrals are back and asserting their dominance. Instead of going for bright colors, opt for the more subdued neutrals. This doesn't just relate to wall colors, either.
From furniture to decorations to flooring and more, experts agree that neutrals are the way to go. Expect to see a slew of white countertops and beige furniture in the coming months. Why is interior design going neutral? It's simple. For one, minimalism is a huge trend in design right now. Neutrals play into this trend. Secondly, making the majority of your color palette easy on the eye allows you to pick and choose statement moments.
You have the opportunity to bring tons of focus to the areas of your house, most worth the attention. For example, if you have a neutral-colored living room, the Jackson Pollock painting on your wall suddenly becomes the center of attention instead of blending in with the other decoration. The same is true for accent walls, brightly colored rugs, or other wow-moments.
Trend Two: Bring the Nature Inside
While it might be a surprise, houseplants are back and in a big way. While we all have images of the waxy-faux plants laden in our brains, that's not the type of plants on trend now. Instead, homeowners are bringing nature inside via terrariums, green walls, bonsai trees, succulents, or indoor gardens.
Nature is relaxing, and it goes back into the minimalism motif we talked about before. Greenery adds an organic touch to the home, making it feel calmer and more inviting. Plus, plants serve as excellent focal points and conversation starters in any room.
Trend Three: Eco-Friendly Design
Eco-friendly is no longer a term limited to reusable grocery bags and metal straws. Now, the eco-friendly movement has made its way into interior design. As our collective energy shifts towards climate concerns, more homeowners are trying to do their part by incorporating eco-friendly and sustainable design.
Incorporating eco-friendly elements is relatively easy to do, too. Everything from reclaimed wood, engineered stone, smart technology, and utilizing natural lighting are all ways to incorporate eco-friendly design.
There's also an increase in interesting options like bamboo flooring, energy-efficient appliances, and even decorations made from recycled materials. In 2020, there will be many more homeowners adding sustainable materials and design elements to their home.
To be on trend, look for sustainable or eco-friendly alternatives to the décor or products you're already planning on using. The chances are that there's a more environmentally friendly option on the market.
Trend Four: A Focus on Acoustics
Big, open concept houses have been all the rage for the last several years. However, pair those high ceilings with natural stone or hardwood flooring, and the result is an acoustic nightmare. If you live in a large, open house, you have already felt this. While the space is nice, your home being an echo chamber can be incredibly frustrating.
This is why we're seeing a rise in acoustic ceiling systems. These systems are architecturally breath-taking, but they serve an added purpose. These systems help control the acoustics of a house. They can absorb sound and help manage unwanted noise.
They come in a variety of different designs and with varying degrees of capabilities. Most often, they're custom-designed for homes. So, you'll have no problem finding one of these to fit your home's aesthetic.
Trend Five: Cozy Spaces
While it might sound antithetical to wide-open spaces, cozy spaces are trending in 2020. Essentially, all the open concept design left little room for intimate and cozy conversation. So, more homeowners are finding ways to incorporate cozy spaces into their home's interior design.
One particularly popular trend is creating built-in nooks and seating areas into the corners of rooms. These nooks provide cozy conversation or relaxation areas in homes, thereby making them feel more relaxed and inviting. Other homeowners are instead opting for curved, bulky furniture, which evokes a cozier vibe.
The cozy-factor is also being amplified by adding dimmer lighting or by the addition of fireplaces.
Matt Lee is the owner of the Innovative Building Materials blog and a content writer for the building materials industry. He is focused on helping fellow homeowners, contractors, and architects discover materials and methods of construction that save money, improve energy efficiency, and increase property value.